PHARMACY SAFE STORAGE PROGRAM
one powerful
pledge
Join pharmacies around Washington that are making a difference. Sign up for the 120-day program to receive free materials and free locking bags for your customers.
Pharmacies are asked to follow three key steps to ensure the program is successful and can continue for years to come.

1. HAVE A CONVERSATION
Have a conversation with all patients who receive opioid medications to see if they would like a free locking bag and pledge to lock up their medications.


2. SUBMIT
Track your activities each week and submit them electronically using our program report form.

3. SHARE THE IMPACT
Post the pledge forms and program materials around your pharmacy to show the impact that the program is having for your community to reduce the risks of opioid misuse.
After you sign up for the 120-day program, we will be in touch with you to go over the program requirements and materials that you will receive to implement the program in your pharmacy.
A supply of free locking bags to provide to patients who receive opioid prescriptions.
Promotion of your pharmacy's involvement within your market area through media relations and social media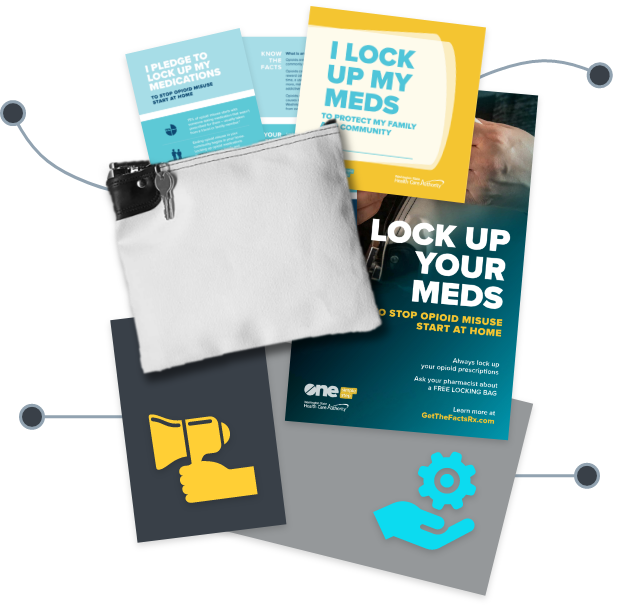 Promotional materials including posters, informational rack cards, ready-to-use social media posts, eNews content and pledge forms.
Ongoing support to ensure a straight-forward and smooth implementation of the program.
When you sign up for the program, we will send you all of the materials that you need. If you need extra toolkit materials you can download them here and print them at a local print shop.
YOU HAVE THE POWER TO DECREASE OPIOID MISUSE IN YOUR COMMUNITY.
SIGN UP NOW TO PARTICIPATE IN THE SAFE STORAGE PROGRAM.
SIGN UP NOW
"This program was a great resource to empower our customers to play an important role in minimizing opioid misuse in our community. Providing patients with a locking bag was a powerful way to help them overcome barriers for practicing safe medication storage."
– Andrew Heinz, Pharmacist and Owner of Kirk's Pharmacy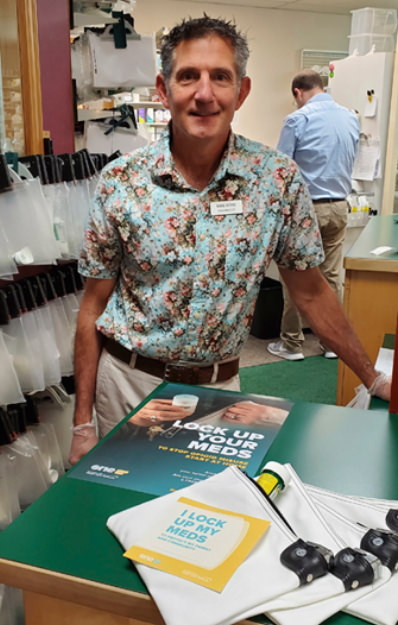 Kirk Heinz, Founder of Kirk's Pharmacy
The Pharmacy Safe Storage program, funded by the Washington State Health Care Authority, challenges pharmacies across the state to help keep opioid prescriptions safely stored by providing free locking bags for patients and asking community members to pledge to lock up their meds.
The program highlights the leadership role pharmacies play in advising people about preventing opioid misuse. The program shows that by simply asking customers if they would commit to locking up opioid medications, and providing a free locking bag to those who needed it, pharmacists successfully helped people follow through on this important prevention behavior.
Following the proven success of the pilot program, in 2021 the Pharmacy Safe Storage program was expanded to 20 pharmacies across eight counties. Over the course of four months:
were talked to about the Safe Storage program
pledged to lock up their medications
were distributed over a four-month period
FOR MORE INFORMATION CONTACT:
Esther Brown
READY TO MAKE A DIFFERENCE IN YOUR COMMUNITY?